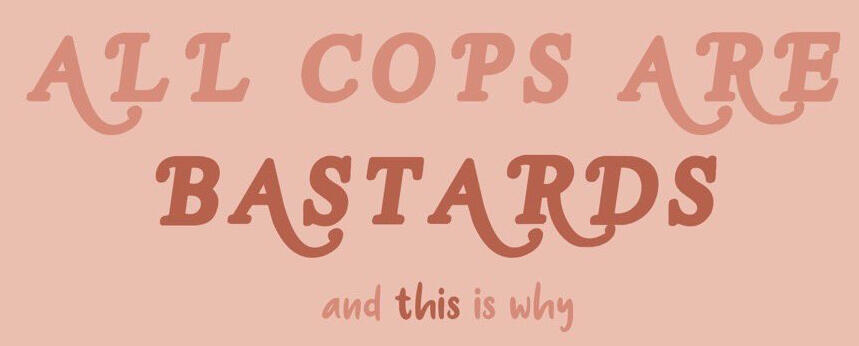 ---
(credit: nora @filmIuv)
"but not all cops"
all cops are bad because, as a condition of their employment, swear to enforce all laws, including laws which are unjust and initiate violence on peaceful people. it's the job they are sworn to do. pledging to suspend morality and logic in order to unquestionably impose the will of psychopaths and sociopaths on your fellow man is morally unacceptable.
so yes, all cops are bad, but not because of the actions of a few, there are good people, and there are cops who are otherwise good people. but there are no good cops
"blue lives matter!"
blue lives cannot matter because blue lives do not exist. becoming a cop is a choice. you choose to go to the academy. you choose what department you want to work for - etc. however, being a person of color is not a choice. you cannot decide what color your skin is. so when someone makes the conscious decision to enroll and participate in a historically racist system, they become just as bad as any cop, whether they're murdering innocent black people to walk free, and therefore, are bastards.
"this is new!"
the first first policemen in the united states of america were called the slave patrol. sourcing a quote from acabb.carrd.co:
" some of the primary policing institutions there were the slave patrols tasked with chasing down runaways, and preventing slave revolts... the first formal slave patrol had been created in the carolina colonies in 1704. "
over time, these slave patrols branched out and reached into the northern colonies, and evolved over the years into police force we know today. this institution is built on prejudice, racism and violence.
even if the police serving the force aren't personally racist, prejudiced or violent, they uphold laws and a background which encourages it. therefore, they're bastards.
"what about statistics?"
the police murdered 1,099 people in 2019 alone. 24% of those people were black, even though blacks only represent 13% of the population. black people are 3 times more likely to be killed by white people. additionally they are 1.3 times more likely to be killed while unarmed.
where to donate
reclaim the block

NAACP legal defense fund

campaign zero

black visions collective

north star health collective

the marshall project

george floyd memorial fund

tony mcdade fund

david mcatte fund

tampa bay community support

national bail fund network

blm frontline fund

blm fund

until freedom
petitions & numbers
justice for george floyd - change.org
get the officers charged - change.org
breonna taylor - colorofchange.org
ahmaud arbery - change.org
life sentence for police brutality - change.org
tony mcdade - actionnetwork.org
hands up act - change.org
mandatory racial bias test - change.org
---
text FLOYD to 55156
text JUSTICE to 668366
text ENOUGH to 55156
(612) 673-2100 - minneapolis mayors office
(612) 348-5550 - minneapolis district attorney